The Fontain of Vaucluse is first an exceptional natural site : under a 230 meters high vertical cliff, nested in the bottom of a tight valley, a river spring up from the earth depth, with abundant and clear waters.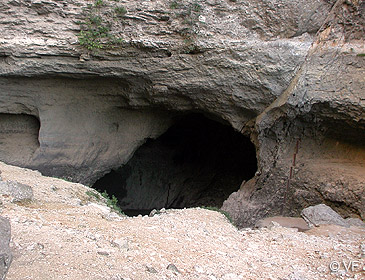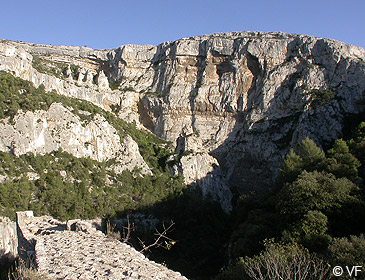 The river is a mystery, coming from nowhere, it pours out in the valley, its course lined with high lane trees, irrigates the whole area. Men took food from its waters rich in fish, it used also the stream strength for industries.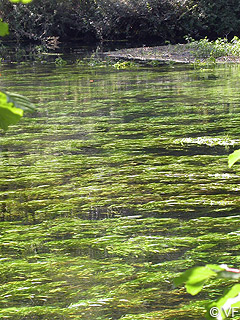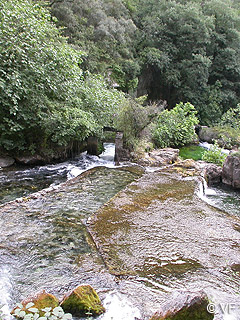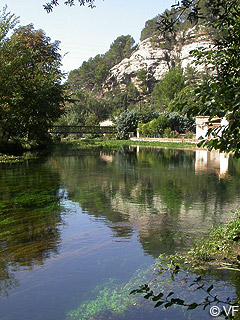 Nowadays the river still makes the wealth of the village : it attracts many visitors coming here to walk along the river up to its source and watching the resurgence. The walk is easy, this is certainly the the most popular natural site in the Vaucluse. The Fountain of Vaucluse has a lot to offer.
The site of Fontaine de Vaucluse is occupied since prehistoric times, the opposite would have been surpring. Romans let traces of buildings. A canal picked up waters of the mountains to bring it down to the city of Cavaillon, and maybe down to Avignon.
The fountain was a place of a fervent cult : speleologist found inside antique coins.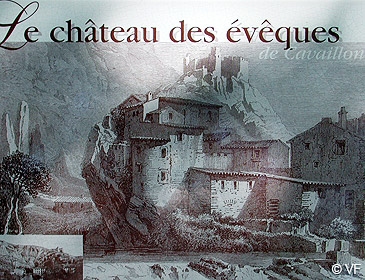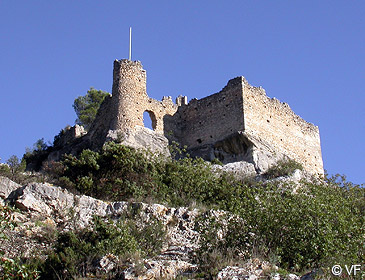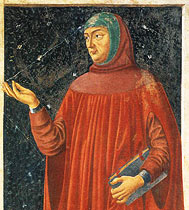 Petrarque par Andrea di Bartolo di Bargilla (1450)
The village appears in the archives in the Middle-Age. The fief belongs to Cavaillon's bishops. The ruins of their castle still stand above the village.
A part from the papal court of Avignon and its agitation, Petrarch settles in the village of Vaucluse in 1337, he joins up his close friend Philippe de Cabassolle, bishop of Cavaillon who often stays in the castle. Petrarch writes in Vaucluse some of his most famous works and poems, of which the poems to Laura. He leaves Vaucluse in 1351 for Italy, just before the valley was plundered by brigands and deserted by the inhabitants.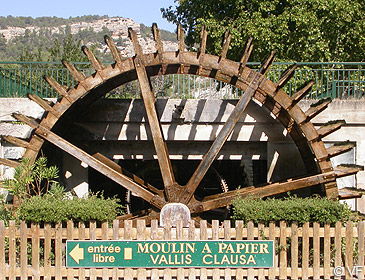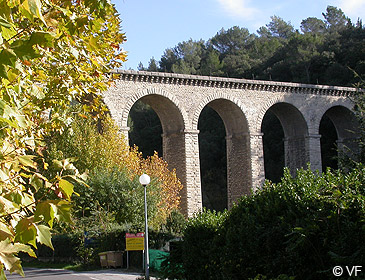 The stream of the river starts up many mills which permit the development of an industry of paper from the 16th century. he village appears in the archivesaucluse like l'isle sur la Sorgue is a place for industrial activity based on water strength. Electricity will make the paper factories disappear. The last one closes in 1968.
The village of Vaucluse gave the name to the department, created in 1791. It comes from the word "Vallis Clausa", meaning "closed valley". The name of the village was "Vaucluse la Fontaine", it changed to "Fontaine de Vaucluse" in 1946.
The commune of Fontaine de Vaucluse is located in the department of Vaucluse, and the community of communes of the Pays de Sorgue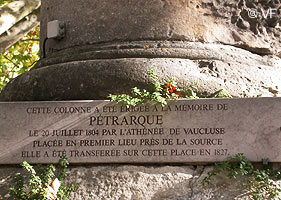 website of the Tourist Office : www.ot-delasorgue.fr
Sights and activities::
- Church Notre Dame and Saint-Véran
- Medieval Castle
- Paddle wheels
- Museum Petrarch
- Local history museum Maurice Pezet
- Museum of the call of Liberty
Coming to Fontaine de Vaucluse
GPS coordinates : N 43°55'18'' - E 5°07'40''
Location : altitude 80 metres above see level, 660 inhabitants, 8 km from Isle-sur-la-Sorgue, 11 km from Velleron, 16 km from Pernes les Fontaines, 17 km from Gordes, 30 km from Avignon