Vacqueyras is a village in the Vaucluse, at the foot of "Dentelles de Montmirail" ranges. In some views, Vacqueyras seems to emerge on a nipple around a sea of ​​vines are produced in Vacqueyras a reputable wine of Côtes-du-Rhône. Vacqueyras is the third and last village to get his own name as an AOC since 1990 (as Gigondas its neighbor and Châteauneuf-du-Pape). As in Hollywood, "and Vacqueyras wines" appears in capital letters on the sides of the hill and reminds the driver that crosses a renowned terroir.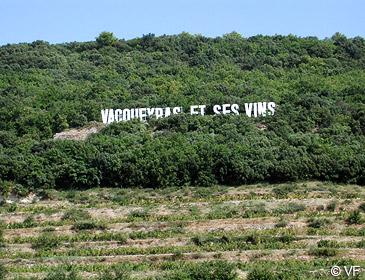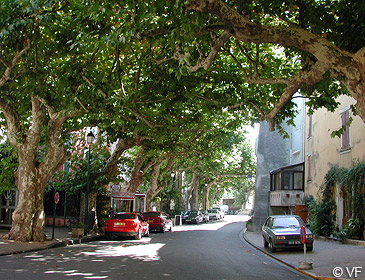 One comes Vacqueyras to taste his wine in the many surrounding wineries, especially during the wine festival on 13 and 14 July. If you stop in the village, you'll find the elements which make the charm of a Provencal village well-preserved : medieval city walls, the parish church dedicated to St. Barthelemy, originally Romanesque but later modified, and castle. You can access the winding streets of the old Vacqueyras by two gates: the Portail Neuf and the Porche (formerly the only gate of the village). The Stassart course, shady avenue lined with plane trees is the real heart of the village, it was created during the filling of ditches that surrounded the old city walls in the 19th century.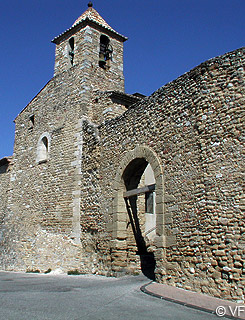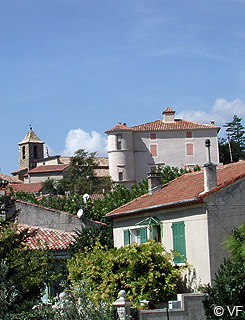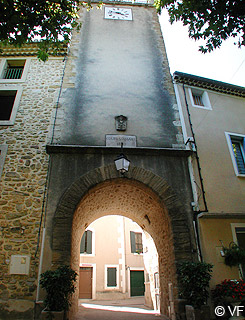 A fountain attracts attention, it is topped by the proud bust Raimbaut Vacqueyras, one of the greatest troubadours of the Middle Ages. His life is an adventure novel, he was born in Vacqueyras, son of a poor knight, he grew up in the court of Guillaume des Baux, Prince of Orange and his son Bertrand. He learned the art of the troubadour : singing and composition, as well as the profession of arms. After the death of Bertrand, he joined the Marquis Boniface de Montferrat in Northern Italy. It follows the Marquis, then one of the greatest warriors of Italy, during his campaigns and during the fourth crusade he led. The two companions perished together in Greece weapons in hand. Thus ended the life of the most famous of his time adventurous troubadour.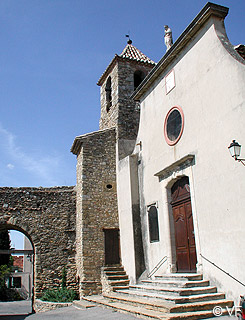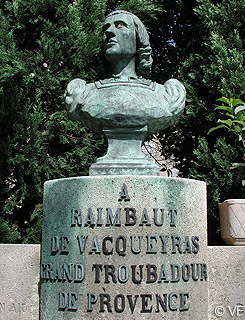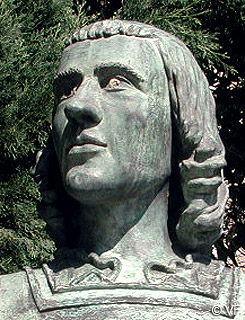 Coming to Vacqueyras :
GPS coordinates : N 44.1384, E 4.9826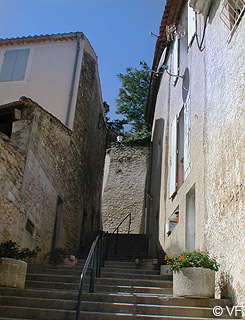 The town of Vacqueyras is in the north of the department of Vaucluse, at the foot of the Dentelles.
Accommodation :
Selection of bed and breakfast near Vacqueyras on the portal of B&b in Provence
website of the village : www.vacqueyras.tm.fr
Sights and activities :
- city walls
- Medieval gates
- Church of St. Barthelemy
- Wine Festival on 13 and 14 July
- Chapel Notre Dame de Pitié de Coste de Coa
- Fête votive 3rd Sunday of August
- Weekly market on Thursday morning

Location : altitude 125 metres above sea level , 1000 inhabitants, 3 miles from Beaumes-de-Venise, 4 miles from Gigondas, 6 miles from Séguret, 13 miles from Vaison-la-Romaine , 16 miles from Orange, 17 miles from Chateauneuf-du-Pape, 22 miles from Avignon