Gordes Village is a "star" of Provence. Gordes is a mineral citadel and its stones glimmer underneath the shining sunset. Its profile is famous, the image an icon of the Provence. The village is perched on a last southern foothills of the mountains of Vaucluse. It dominates the entrance to the valley Calavon, facing the Luberon massif. The buildings made of flat stones reach here perfection in their construction techniques and in their harmony with the landscape. Gordes is naturally listed among France's most beautiful villages.
Painters and photographers of the 20th century, "discovered" Gordes. They arrived after the Second World War : Marc Chagall, Jean Deyrolle and Andre Lhote created a colony of artists in Gordes. Painters Vasarelly Victor Victor Spahn, Pol Mara, the photographer Willy Ronis has among other names associated with the village.
With growing fame, the economy of the provençal village has turned to tourism. Many visitors come here to admire picturesque scenery, but do not halt for a very long time. If you stay here a few hours, you will appreciate the athmosphere of a provencal village and you may be crossing one of many well known personalitie who have chosen this place as a vacation.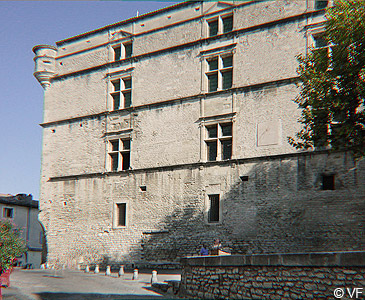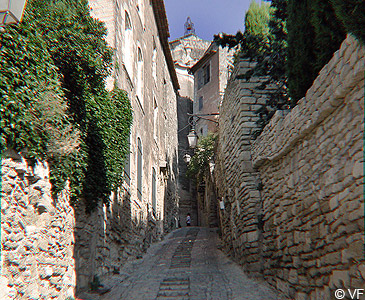 A rectangular castle stands at the centre of Gordes. Although it was erected in 1525 at the Renaissance, to replace a previous one, the castle keeps a medieval shape and its offic of fortress in those time troubled with the Religion's war. The castle is nowadays a peaceful museum, it sheltered the paintings of the contemporary painter Vasarely, famous Gordes inhabitant, for thirty years. The rooms display now the work of the flemish painter Pol Mara.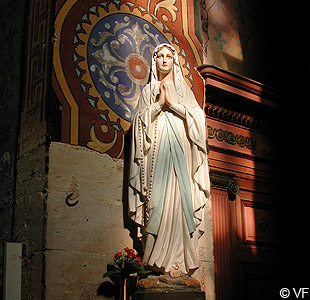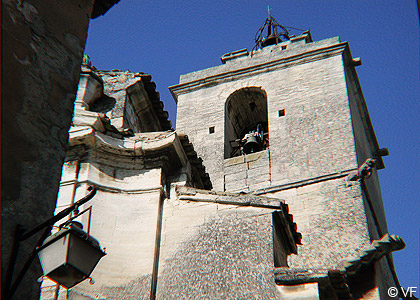 The ancient village is criss-crossed with old and winding streets, paved with stone, from where we admire a wonderful outlook on the Luberon mountain and the Calavon's valley. The Saint Firmin church has a romanesque foundation and was modified in the 17th century.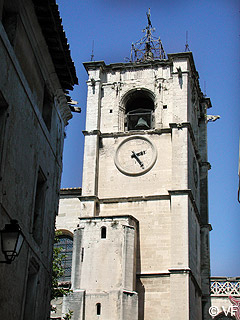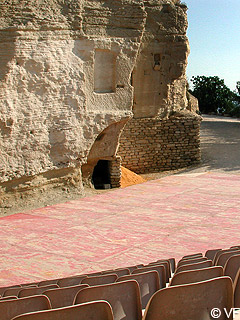 You will find many Art galeries and artists exhibition in Gordes. An open theatre, carved in the raw stone, is a privileged place for a summer Festival named "Summer nights in Gordes (Soirée d'été à Gordes)".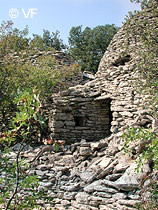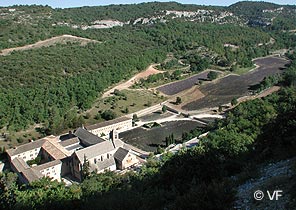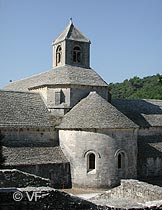 Stones are everywhere in the lanscape around Gordes. Limestone turned white by the sun and the rain, limestone in which hangs up the garigue, full of famous Provence's smell.
In the surroundings of Gordes you will discover some of the most beautiful 'Bories' of Provence.
Those buildings attest the existence of a great agrarian civilisation, drawind its roots in prehistoric times. You'll find Bories scattered in the countryside around Gordes, and widey on the Vaucluse's plateau and in the High Provence.
An other icon of Provence, the Sénanque Abbay is just a few kilometers from Gordes, in the Sénancole valley.
Coming to Gordes : GPS coordinates N 43°54'39'' - E 5°12'00''
map of Gordes and Provence
Accommodation in Gordes and nearby
Large choice of B&B in Gordes and nearby on the portal of Provence's guest houses
tourist office website: www.gordes-village.com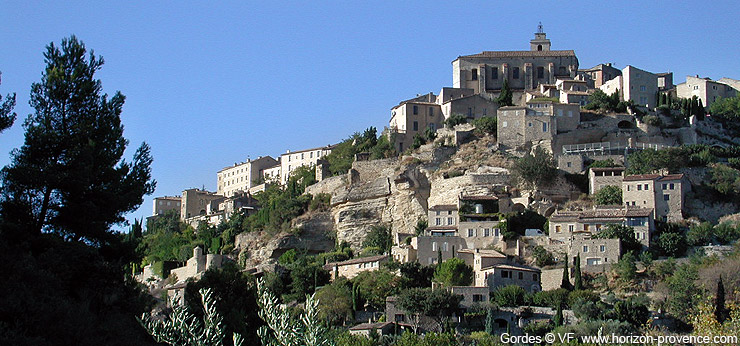 Gordes location : altitude 373 metres, 5 km from l'Abbaye de Sénanque , 10 km from Murs, 10 km from Roussillon, 11 km from Ménerbes, 18 km from Isle sur la Sorgue, 19 km from Bonnieux, 20 km from Apt, 39 km from Avignon