T

he Avignon's bridge made twice the fortune of the provençal city. The legend says that the brige which spanned the Rhone river was build in Middle-Age thanks to a simple shepherd, a teenager named Benezet (nick name for Benedict), who gave it his name. This was the only stony bridge on the Rhone river between Lyon and the Mediterranean see and it made Avignon's fortune and power in those times. The city was a practically independant Commune, under the remote and gentle suzerainty of the counts of Toulouse.
M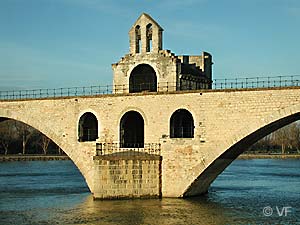 any times repared, the maintenance of the bridge is too costly for Avignon's inhabitants and it is abandonned few centuries later to destructive floods of the Rhone river.
The origin or the author of the song "Sur le pont d'Avignon" is not really known. It probably dates from the 19th century when "guinguettes" were established under the ruined arches of the bridge on the Barthelasse island. The song, took by Adolphe Adam in a operetta at the end of the 19th century, became a popular nursery rhyme with a international success. And the old Romanesque bridge made again the fame of Avignon.