Hanging on the cliff, Moustiers Sainte-Marie astonishling looks like a Provencal village of tale and Christmas crib. The village is located in Haute Provence, near the Lake of Sainte-Croix, at the entrance of the Gorges du Verdon and the foot of Valensole planted lavender fields. Moustiers is undoubtedly one of the most beautiful villages in Provence.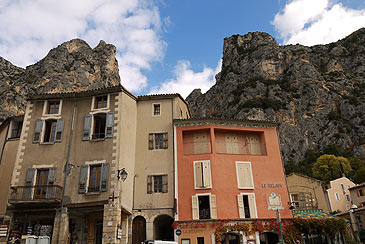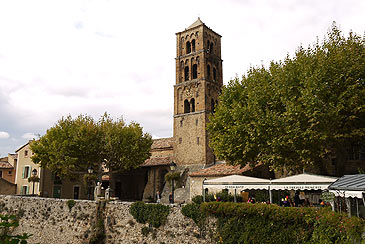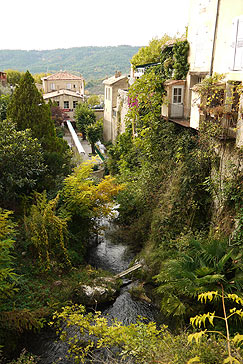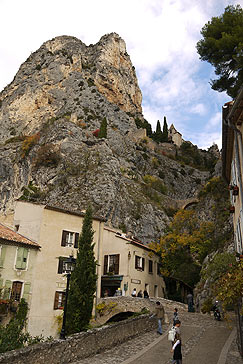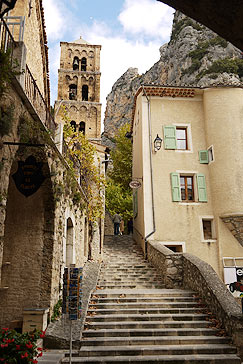 Moustiers was founded by monks in the 5th century who settled in the caves cliffs and founded a monastery. A village is developing, well sheltered by the ramparts, it became an important trading center in the region.
The Church of Our Lady is at the heart of the old village, built in the 12th century. Its original bell-shaped square tower flanked by four Romanesque bays emerges above the roofs. The second village church is the Notre-Dame de Beauvoir, it is at the top of the cliff at the top of the village, one must climb the 262 steps along a steep path to reach it, and admire the beautiful view over the plains and the Valensole, while on the left the Lake of Sainte-Croix is visible.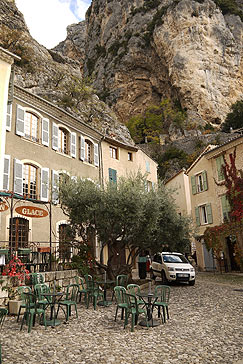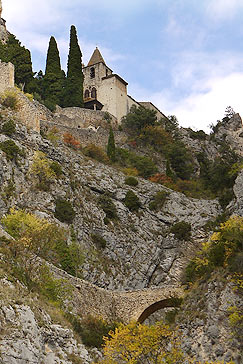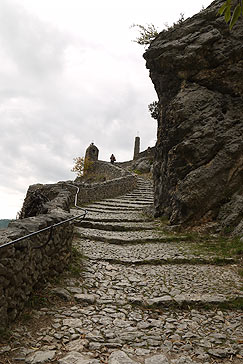 Between the cliffs, a star is suspended by a heavy chainabove the village. According to legend, the Chevalier de Blacas prisoner of the Saracens during the Crusades, vowed to the Virgin Mary to hang above the village a star when he will return. He was released and he kept his word and his promise lasted for more than 800 years.
Moustiers-Sainte-Marie has retained active earthenware industry, galleries and craft shops and artists abound in the picturesque streets of the old village. A museum traces the history of pottery and reveals the secrets of this multi-centennial art.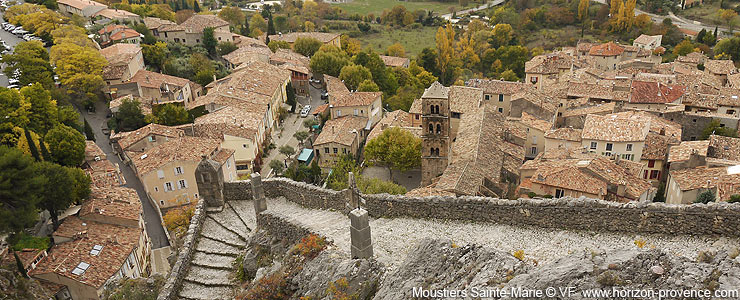 Accommodation
Selection of bed and breakfast near Moustiers Sainte-Marie and the gorges du Verdon on the portal of guest houses in Provence
Coming to Moustiers Sainte-Marie
GPS coordinates 43°50'54'' N - 6°13'19'' E
Location : 700 inhabitants, 600 metres above see level, 4 miles from Lac de Sainte-Croix, 6 miles from Gorges du Verdon, 9 miles from Aiguines, 18 miles from Valensole, 19 miles from Bauduen, 23 miles from Trigance, 31 miles from de Manosque, 35 miles from Forcalquier, 60 miles from Aix-en-Provence