Fontvieille - Moulin de Daudet

Fontvieille - Moulin de Daudet

Alphonse Daudet

Fontvieille - Eglise

Fontvieille - village

Fontvieille - lavoir municipal

Fontvieille - lavoir municipal

Fontvieille - lavoir municipal

Fontvieille - Moulin de Daudet
Fontvieille is a little town located at the western end of the Alpilles mountain, on the first hills rising above the Rhone Valley. Fontvieille is deeply connected to the writer Alphonse Daudet, who lived in the village. His "Letters from my mill" (Lettres de mon Moulin) refers to mills that overlook the village. The most beautiful of these mills, and last to be remained in use until the early 20th century, houses a museum dedicated to the writer, but there are still three other partially ruined in the pine forest on the hills of Fontvieille. Alphonse Daudet often resided in the castle of Montauban, a beautiful building of the late 18th century, at the invitation of relatives and friends, Ambroy family. The castle is now proporty of the municipality.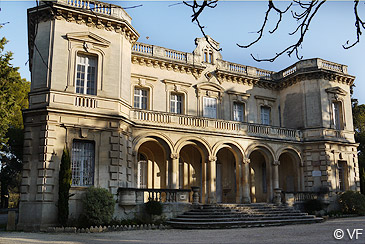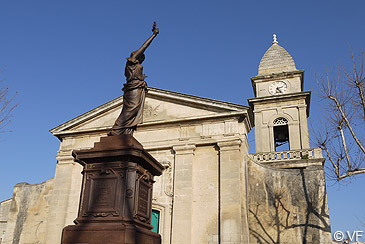 Facing the church of Fontvieille, Church Saint Pierre Es Liens, a bronze statue is dedicated "To the glory of the French Revolution", this is evidence of the struggles for influence between the Church and the secular Republic. Fontvieille had a large population of carriers, workers mined limestone quarries since Roman times, the activity grew strongly in the late Middle Ages. The castle of Tarascon was built with stone from Fontvieille. The activity declined in the early 20th century and the advent of cement, it remains today just one career in activity.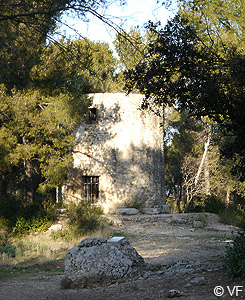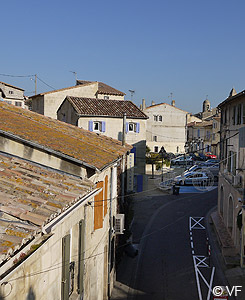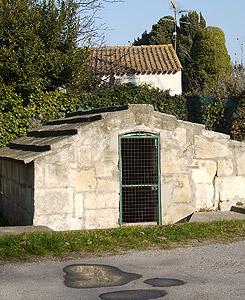 Fontvieille means "Old Fountain" in Provençal. This old fountain that gave the town its name still exists, it is 2km to the center of the present village, next to a superb wash-house, of impressive size. A hundred meters away is the Tour de l'Abbé, a defensive structure built in the 14th century by Pierre de Canillac, abbot of Montmajour.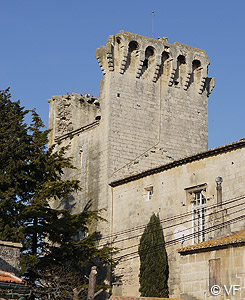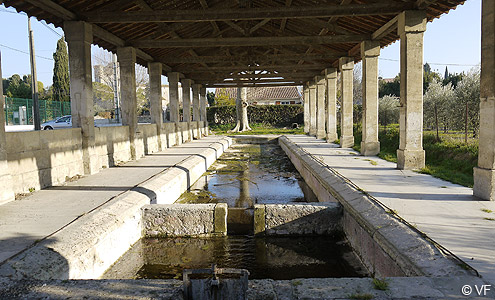 A few kilometers south of the village are the ruins of a Roman aqueduct, the aqueduct of Barbegal. It was a double aqueduct, one part supplied the city of Arles, another part fed a watermill whose remains are excavated: a conduit was dug in the rock, the water rushed down the slopes, powering the blades mills located on the slope. It is the largest complex of water mills known in antiquity.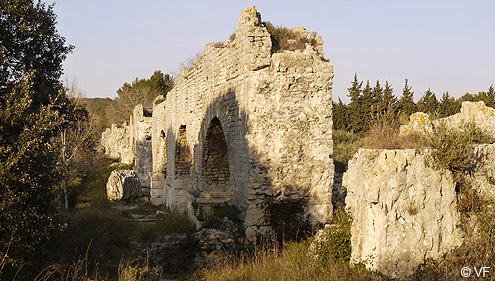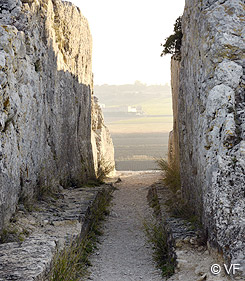 The town of Fontvieille is located in the department of Bouches du Rhône, in the Regional Natural Park of the Alpilles
Accommodation in Fontvieille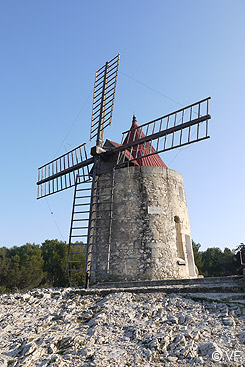 Mas d'Emilie
charming bed and breakfast in Fontvieille near the Baux de Provence
Choose a b&b in the Alpilles on the portal of the b&b in Provence
website of Fontvieille : www.fontvieille-provence.com
Sights and activities :
Mill and museum Alphonse Daudet
Aqueduct et Millings of Barbegal
The Vieille Font
Church Saint Pierre Es Liens
TheTour des Abbés
The Grand Rue & Le Planet
The wash house
Santon fair mid-November
Coming to Fontvieille
GPS coordinates N 43°45'36'' - E 4°57'00''
The town of Fontvieille is located in the department of Bouches du Rhône, in the Regional Natural Park of the Alpilles
Location : altitude 22 metres above see level , 3600 inhabitants, 9 km from Baux de Provence, 10 km from Arles, 12 km from Saint-Rémy de Provence, 32 km from Avignon, 82 km from Aix-en-Provence