The village Châteauneuf de Gadagne is built on a large hill separating the Rhône valley and the Sorgues country.
Sitting on the eastern side with one's back to Avignon, Châteauneuf turns toward the Mont Ventoux, the plain of the Comtat Venaissin and the Sorgues rivers country.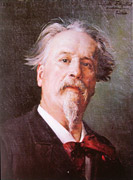 The village inherited its name from one of its famous lord, the comte Charles Félix de Gallean de Gadagne, general-lieutenant of the king Louis XIV armies, and comrade in arms with Turenne. He was raised to the rank of duc de Gadagne by the pope Clement VI.
The "Château de Fontségugne" in Châteauneuf de Gadagne is a symbolic place for the provençal culture : there in 1854 was founded the Félibrige, a litterary movement promoting the renewal of the provençal language, poetry and literature, initiated by Frédéric Mistral (future Nobel prize) and his companions of the "Ecole d'Avignon".
The proximity of Avignon makes Châteauneuf de Gadagne a residential area. The surroundings keep nevertheless a the pleasant character of the provençal countryside. The vineyard thrives on the large and stony hill slopes , producing a fine "Côtes du Rhône", and the orchads spread in the plain..
The village is rooted to the slope, and its streets are sometimes quite steepy. Châteauneuf de Gadagne suffered wilful damages during the Religions wars in the 16th century and during the Revolution. It keeps nevertheless a authentic provençal charm. Walking through its narrow streets is very pleasant and let many occasions to rest on shades squares and discover old and freshfountains.
The castle of the 12th century, reputed then one of the most beautiful in he region was let and ruined after the Revolution, and was used as quarry for the village inhabitants. The church holds some design from its romanic origin. Information signs present to the visitor historic notes and noteworthy buildings of Châteauneuf de Gadagne 's heritage.
The surroundings offer very nice walks, biking and horse ride trough the vineyards protected from the wind by high cyprus hedges. As you follow your pass, you'll enjoy superb views on the Mont Ventoux, the Dentelles de Montmirail ou by south on the Alpilles and Luberon mountains.
Châteauneuf-de-Gadagne website : www.chateauneufdegadagne.fr
Coming to Châteauneuf de Gadagne
GPS coordinates N 43°53'34'' - E 4°56'43''
The town of Châteauneuf-de-Gadagne is located in the department of Vaucluse.
Location : altitude 45 metres, 3200 inhabitants, 5 km from le Thor, 5 km from Caumont-sur-Durance, 9 km from Isle-sur-la-Sorgue, 10 km from Velleron, 12 km from Avignon.