The village of Lacoste hangs on the side of a steep hill on north side of the Luberon. Lacoste is dominated by a large ruined castle now that was owned by the family of Sade.
Visit of the village
At the village entrance a board warns visitors: "Visit Lacoste on foot." The cobbled streets and steep terrain are a pleasant walk indeed. Two medieval gates keep the entrance to the village. The old houses with whitewashed stones shine in the bright sunlight of Provence. The higher you climb up the village, more the limestone houses take noble characte and patina of time where so many lives are spent through the time.
The view from the castle of Lacoste is splendid on the plain Calavon the Vaucluse and Mont Ventoux. Three contemporary works of art in bronze are exposed to wind and contemplation visitors.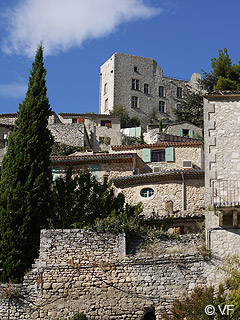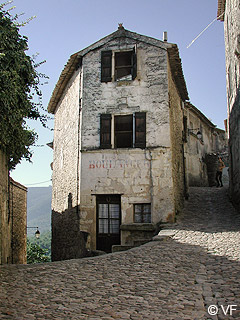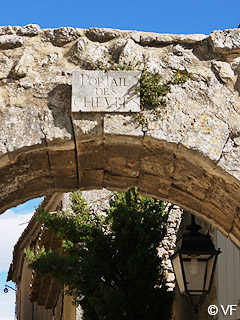 History of the village
We find traces of prehistoric and Roman occupation on the territory of Lacoste. The village named "La Costa" appears in the archives of the Middle Ages, is formed around the castle. Lacoste hosts in the 16th century a community of Vaud. In 1545, an army leaded by Jean Maynier, Baron of Oppède undertakes a "crusade" against the heretics. After the massacres of Cabrières and Mérindol, the villages nearby, Lacoste is also a victim of brutal repression. Catholic or Protestant inhabitants indiscriminately killed by the soldiers of the Baron. Despite this sad episode, a significant Protestant community will remain in Lacoste in the following centuries.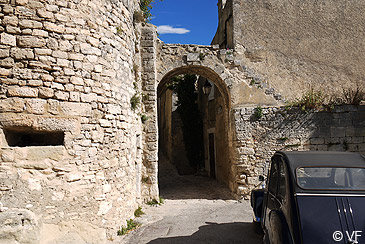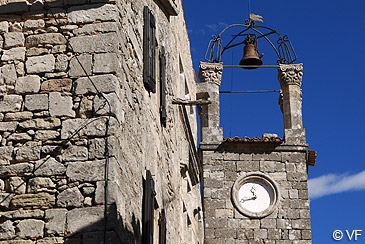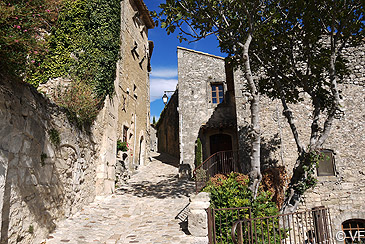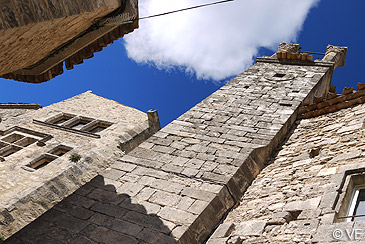 Lacoste gets through inheritance under the suzerainty of Gaspard François de Sade, grandfather of Louis-Alphonse-Donatien, the famous Marquis de Sade. He led a licentious and debauched Parisian life, and made ​​a few trips to Lacoste to escape scandals, trying to be forgotten in the capital. He then devoted himself to his two passions: libertinism and theater. It leaves a bad impression on the people from the village, the castle was sacked and damaged in 1792 during the Revolution. Sold, the castle served as a stone quarry. It was then bought in the 50s by André Bouer who for 30 years consolidates back the ruined walls and collapsed vaults . The fashion designer Pierre Cardin bought the castle in 2001, he continued his recovery and made ​​a residence. Pierre Cardin has created a festival held in the summer, dedicated to theater and opera.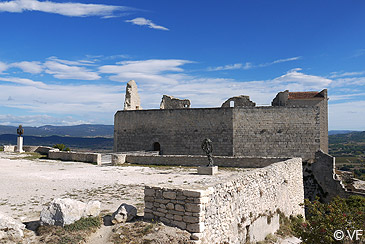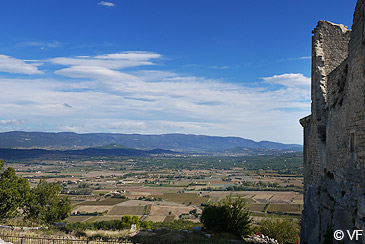 Coming to Lacoste
GPS coordinates N 43°49'57'' - E 5°16'23''
Lacoste is part of Luberon Regional Park.
Accommodation
Selection of guest rooms in Luberon on the portal of the Bed and breakfast of Provence
Tourist office website www.lacoste-84.com
Sights and activities :
- Picturesque Village
- Cedar Forest in the Luberon
- Ramparts of the 14th century
- Belfry (1550)
- Eglise Saint trophime (12th-13th century)
- Laundries
- Castle (private)
- Tuesday morning market
- Votive feast in late July
- Oppède Festival from July 15 to August 15 : website
Location : altitude 325 meters, 430 inhabitants, 5 miles from Goult, 5 miles from Bonnieux, 5 miles from Ménerbes, 10 miles from Apt, 26 miles from Avignon,