The Cascades du Sautadet are a series of spectacular waterfall formed by Ceze river. The rushing river tumbles into cavities dug in the limestone, forming waterholes, pots and pans. Its level is lowered 15 meters high and a few tens of meters
The site is very beautiful and it is a famous place of bathing which attracts many people in summer. But be aware that swimming is prohibited in the waterfalls because of the dager. Strong currents and eddies generated by the rugged rocks regularly cause fatal injuries to unwary bathers. Bathing is safe a little further downstream.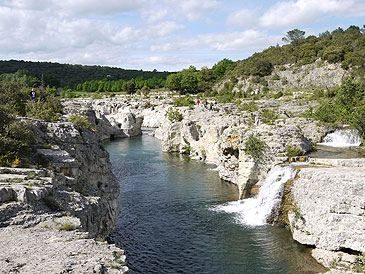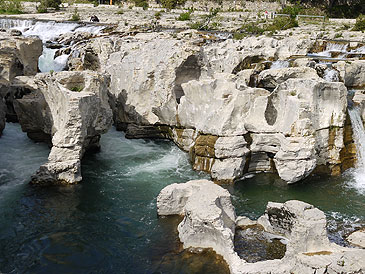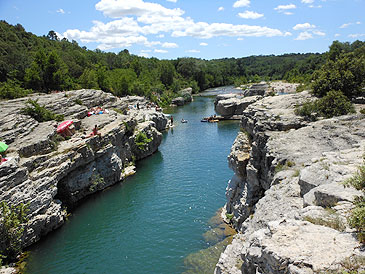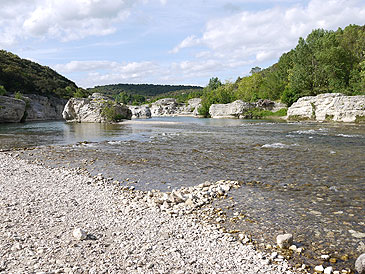 Above the Cascades foundations of a mill, built in 1881 on the left bank you can see, a bypass channel cut in the rock which is a nice place to bath for children.
The Sautadet name refers to the Greek myth of Hades God (god of the underworld), there is a local saying "At la Roque the devil will bite". The Cascades Sautadet are on the village community of La Roque sur Ceze, a village classified among the most beautiful in France. The site is classified as a "natural area".
To access the waterfalls, the most convenient way to park at the foot of the bridge Charles Martel La Roque-sur-Ceze. The charge for parking in summer.
Accommodation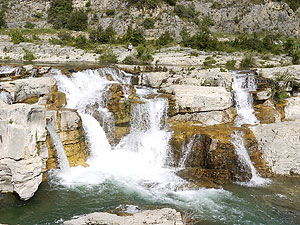 • Bed and breakfast near the Ceze valley on the portal of Provence's guest houses
• website of the village: www.laroquesurceze.fr
Coming to the Cascades of Sautadet
GPS coordinates 44°11'16'' N - 4°31'37'' E
Location : 60 meters above sea level, the Cascades of Sautadet are located in La Roque-sur-Cèze, 5 miles from Goudargues, 8 miles from Bagnols-sur-Cèze, 14 miles from Lussan, 15 miles from Barjac, 18 miles from Uzès, 22 miles from Orange, 27 miles from Avignon.