Viviers sits on a large rock elevation overlooking the Rhone Valley, an imposing cathedral crowns the city gathered on its promontory. Viviers is the capital of Vivarais, an ancient region whose boundaries correspond almost to the department of Ardèche.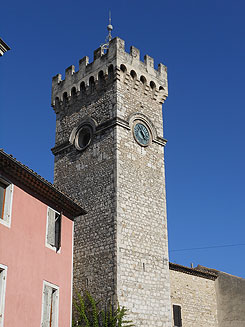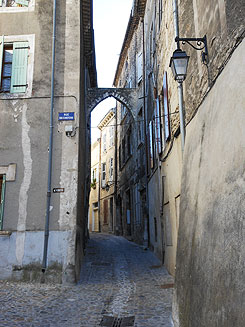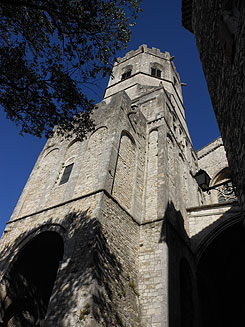 Erected as bishopric from the 5th century, at the end of the Roman Empire, Viviers was cosen in favor of Alba the former regional main city, capital of the Gallic tribe of Helviens. Its name comes from the Latin Vivarium, it evokes the rich fishing waters of the Rhone below..
Viviers and Vivarais have brrn under the domination of the Burgundians, and the Franks, it was then part of the kingdom of Lothair after Charlemagne and the Kingdom of Burgundy, and the Holy Roman Empire, the city finally joined the Kingdom of France in the 13th century.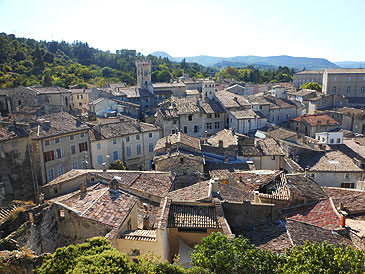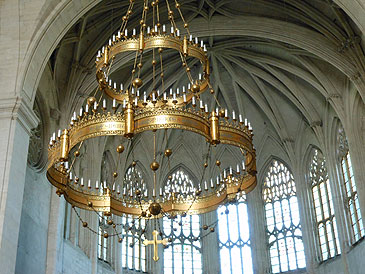 The bishop has long been the lord of the city and its region until the Revolution, the spiritual and temporal episcopal power left in the city an exceptional architectural heritage.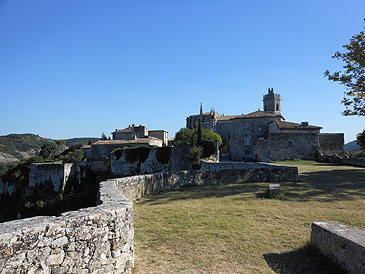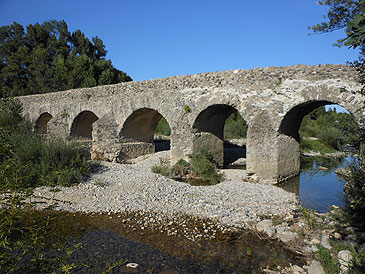 Viviers is living museum of architecture. The Upper Town, protected by walls and a castle, was the domain of men of the Church, they built the St. Vincent Cathedral:. His appearance and the nave is Romanesque but the chorus is magnificent Gothic. Below developed the medieval town that still retains its original appearance: dark, narrow, winding streets cut hoops, high two-storey houses, they keep visible traces of medieval merchants and artisans' shops, and hotels of local notability.
La Tour-Saint-Michel gate guards the entrance to the old city from the top of its 40 meters, its polygonal top floor with battlements was added during the Hundred Years War to fortify the city.
Viviers has a marina on the Rhone located at the foot of the city. River cruise ships stop here frequently. 2 km from the city, a Roman bridge in very good condition over the river Escoutay.
Coming to Viviers
GPS coordinates N 44°28'49'' - E 4°41'27''
Accommodation
• Selection of bed and breakfast in Ardeche on the portal of the Guest house in Provence
Location : altitude 85 metres, 3800 inhabitants, 6 miles from Montélimar, 8 miles from la Garde Adhémar, 19 miles from Alba-la-Romaine, 16 miles from Grignan, 19 miles from Pont-Saint-Esprit, 24 miles from Vallon Pont d'Arc (Gorges de l'Ardèche), 30 miles from Orange, 31 miles from Barjac.