The Ardèche Gorges are the main attraction of the department and its most beautiful natural site. Before flowing into the Rhone, Ardeche digs a deep canyon, thirty kilometers along in the limestone plateau, creating superb landscapes, between the villages of Vallon Pont d'Arc and Saint-Martin d'Ardeche.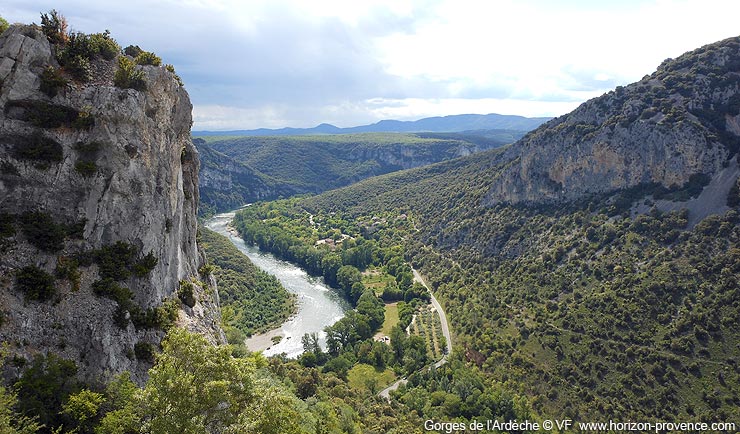 On the plateau, the road punctuated by a 11 lookouts, winds on the right side of the canyon. But the best way to discover the Gorges de l'Ardèche is down the river by boat. The canoe and kayak rental are numerous upriver, near Vallon Pont d'Arc. Each year more than 100,000 people pass under the Pont de l'Arc and travel 31 or 23 km to Saint Martin Ardeche. It takes 5:30 to 7 hours of hiking, possible for anyone in good physical condition, able to swim, and children from 7 years. It is possible to hike it in two days, there are bivouac areas.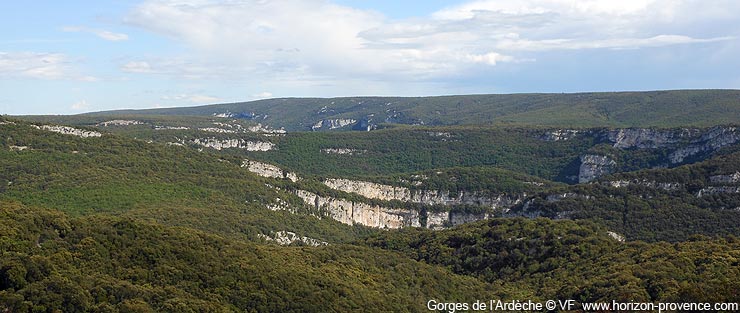 The area is a nature reserve, the flora and fauna are preserved. The man is present since prehistoric times in these landscapes. The Chauvet cave near Vallon Pont d'Arc, is decorated with old cave paintings of 35,000 years, is one of the oldest artistic manifestation of man in the world.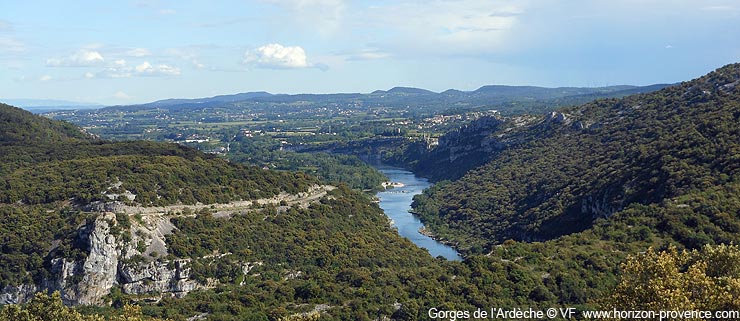 The limestone plateau is riddled with caves and tunnels dug by underground rivers. The most famous is the Aven Orgnac but you can also visit Cave Saint-Marcel, the Aven Marzal, Cave de la Madeleine.
Accommodation around the Ardeche Gorges
• Selection of bed and breakfast near the Ardeche Gorges on the portal of guest houses in Provence.
• tourist office web site : www.vallon-pont-darc.com
Coming to the Gorges de l'Ardèche (Vallon-Pont-d'Arc)
location GPS N 44°24'28'' - E 4°23'40''
Location of the Ardeche Gorges at Vallon-Pont-d'Arc : altitude 85 to 45 meters, 2300 inhabitants, 12 km from Barjac, 28 km from Aubenas, 37 km from Lussan, 28 km from Aubenas, 38 km from Saint-Martin d'Ardèche