La Grande Motte is a resort on the coast of Petite Camargue. It was built in the 60s, on an almost virgin territory. La Grande Motte was then the name of an isolated farmhouse in an area of ​​lagoons, marshy ponds and sand infested with mosquitoes. The State and the General de Gaulle decided to make the project happen. Design and conception is entrusted to the bold architect Jean Balladur, whose mission is to create a quality resort, which meets the booming of mass tourism.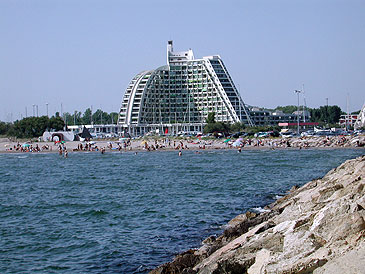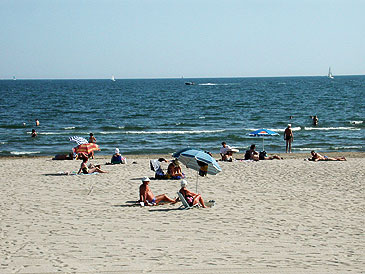 Buildings with avant-garde forms arise from the dunes, a marina widened, swamps transformes to shaded parks and pine forests, which cover about 280 hectares, crisscrossed with roads and bike paths. All leisure facilities are included: tennis, water sports center, aquatic center, 18 hole golf, thalassotherapy center, convention center, casino, discos, ...
The project of Jean Balladur was strongly criticized at the time, but nearly half a century later, we must acknowledge the success of the visionary architect. La Grande Motte has been awarded the "Heritage of the twentieth century" in 2010 awarded by the french Ministry of Culture.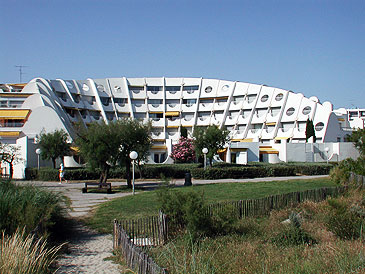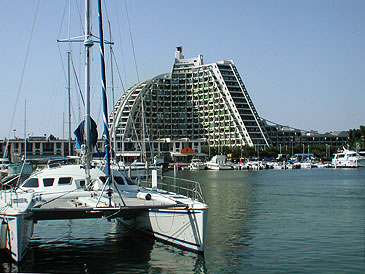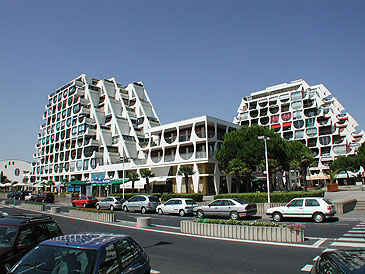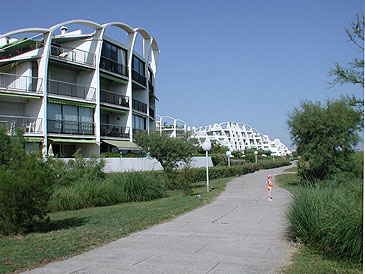 The Ponant area is located west, with buildings with soft and feminine shapes, they merge harmoniously into the landscape of dunes and pine forests. In the area of the Levant, near the mouth of the Vidourle the buildings are angular, pyramid-shaped, edges stand out in the sky. At the center "The Great Pyramid" with asymmetric shapes with a soft side facing the Ponant and a steep side facing the Levant, it evokes the sails inflated by the wind or the mountain of Pic Saint-Loup that can be seen in the background bay the Cevennes.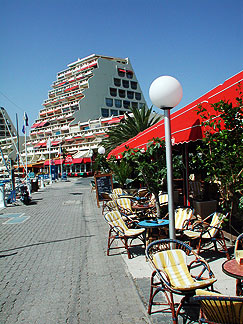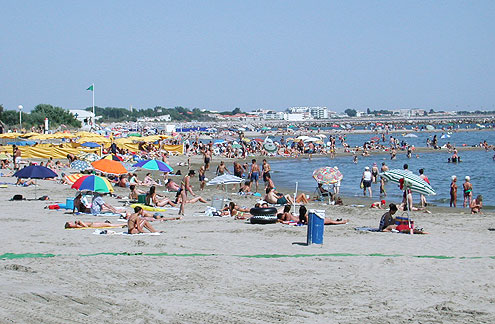 Accommodation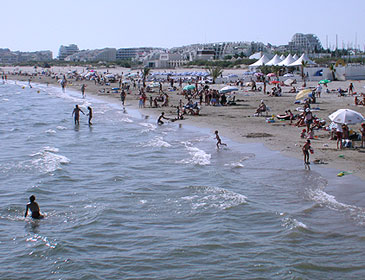 Selection of guest houses in Camargue near La Grande Motte and the Luberon on the portal of the guest houses in Provence.
tourist office website : www.lagrandemotte.com
Coming to La Grande Motte
GPS coordinates 43°33'41'' N - 4°05'09'' E
Location : 2 meters above sea level, 8300 inhabitants, 5 miles from Le Grau-du-Roi, 8 miles from Aigues-Mortes, 9 miles from Palavas-les-Flots, 15 miles from Montpellier, 24 miles from Saintes-Maries de la Mer, 28 miles from Nîmes, 35 miles from Arles.