Nesque Gorge cut into the Vaucluse Plateau forming a spectacular canyon over a length of about 22 km, between the villages of Monieux upstream and Villes-sur-Auzon.
At the summit (734m), the belvedere provides lookout on the "Rocher de Cire (Rock of Wax)" so called because it housed many swarms of wild bees. Frédéric Mistral has made known this beautiful place, a monument is erected with the verses of the Provencal poet.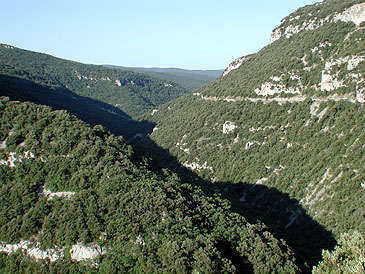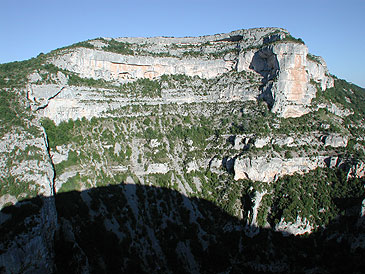 A winding road follows the mountainside, it offers magnificent views of the landscape. Built in the 19th century it was the main communication channel to town of Sault. The road is now frequented by many cyclists and tourists.
In the 60s a broad route was constructed above (by the Col des Abeilles) with the construction of the nuclear missile base on the Plateau d'Albion.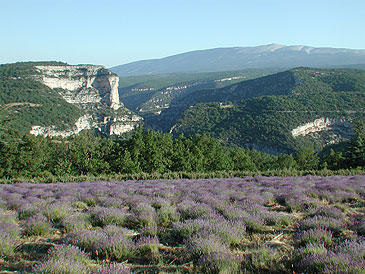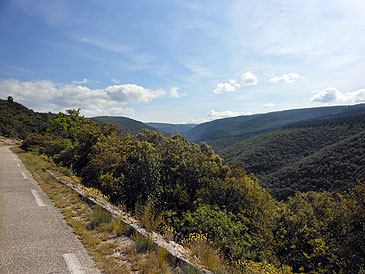 At the bottom of the gorge is the Saint-Michel chapel, a Romanesque troglodyte chapel , renovated in the 17th century. It is an ancient place of pilgrimage. It can be reached by a steep path from the viewpoint of the Rocher des Abeilles.
The canyon is home to many caves, some archaeological excavations have revealed a significant presence of Neanderthals presence (and even pre-Neanderthal) in the Bau de Aubesier (60,000 before JC). Traces of early hunters date back from 150,000, before JC. They fed with elk, deer, horse, aurochs, megaceros (a large deer now extinct) and rhinos (!).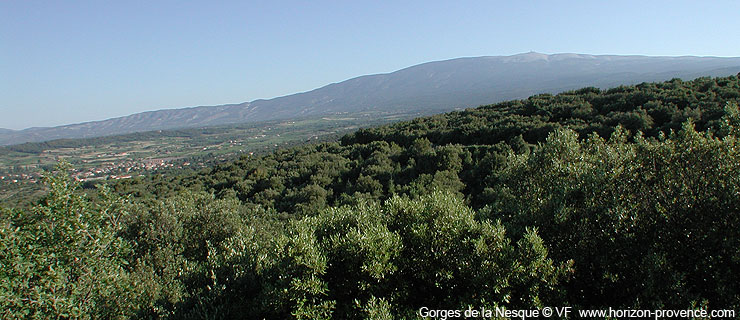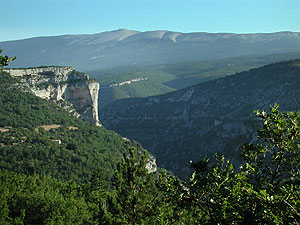 Accommodation and information
Bed and breakfast near the Nesque gorge on the portal of Provence's guest houses
Tourist office website : www.ventoux-sud.com
Coming to the Nesque gorge (belvedere)
GPS coordinates 44°02'47'' N - 5°19'56'' E
Location : 734 meters above sea level, 2,5 miles from Monieux, 6 miles from Sault, 11 miles from Villes-sur-Auzon, 22 miles from Carpentras, 38 miles from Avignon.