Nyons is the capital of the Baronnies, this region of Drôme located at the northern foot of the Mont Ventoux. Nyons is situated at the mouth of the valley of the Eygues reaching the Rhone Valley, the town is protected by mountains whose peaks reach 1000 meters. They form a very effective shelter against the biting winter gusts of mistral yet often cleaning the air, so Nyons benefits a micro-climate as it is nicknamed the "Petit Nice". The olive trees are grown in large numbers, the soil of Nyons produces deemed olives and olive oils Nyons, classified AOC since 1994.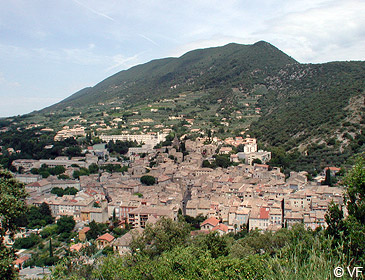 History of the town
A such suitable location could not fail to fix the population a long time ago. Nyons appears in the records as the Niomes a contraction Noviomagus (new market Gallo-Roman language) in the 10th century, it is a dependency of the Saint-Césaire Abbey of Arles. The Mévouillons, lords of baronies impose themself in the 13th century and the Dauphin of Vienna in 1315, and eventually the King of France. During conflicts of power, peaople from Nyons keep freedoms and important privileges. The city has until the Renaissance great prosperity. Nyons embrace the Reformation, and the city has not escaped the looting and disorder of the time, it becomes after the Edict of Nantes in 1598 a "Protestant place safety '. After the revocation of the Edict in 1685, part of Protestants emigrated, many convert to Catholicism.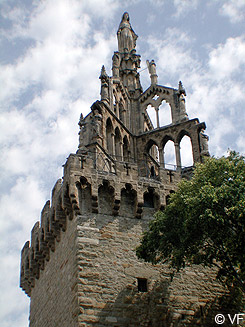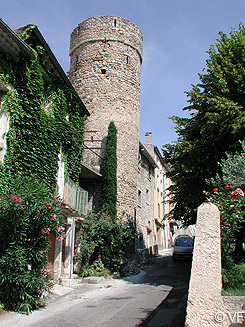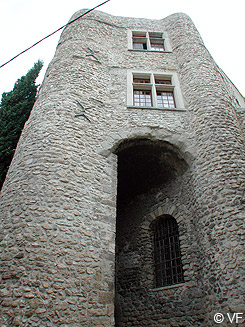 The old town of Nyons retains many traces of its history: the Tour Randonne emerges from the rooftops of the city, headed by a curious pyramid arches on which stands a statue of the Virgin. The tower is 13th century, and its cover is the work of Abbé Francou which converts the building in medieval military chapel in 1863. Around the "Quartier des Forts" are vestiges of the ramparts of the fortress that protected the city in Middle Ages.
Le Roman bridge
The "Roman Bridge" Nyons is a beautiful medieval bridge built in the 14th century. It crosses the Eygues river with one single arche of 43 meters. Until the 19th century Romanesque bridge was the main access road to the village, a toll was installed in the center. A fortress protected the entrance on the left bank of the "Rock of the Guards" destroyed by order of Richelieu in the 17th century.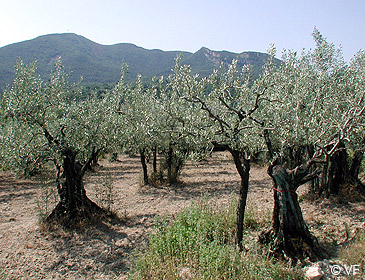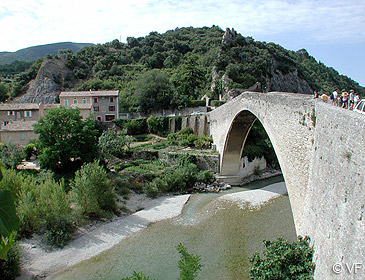 The Olive is the specialty of Nyons, there grows a local variety, the "tanche", whose trees can withstand freezing temperatures (-10 °). Black Nyons olives are for the table and for olive oil. Production today is much lower than at the beginning of the century, it fell ¾ but it is strongly renewing after obtaining the AOC in 1994. Nyons is also a land of vineyards, there produces wines of Cotes du Rhone Village, Cotes-du-Rhone Vin de Pays des Baronnies.
Accommodation :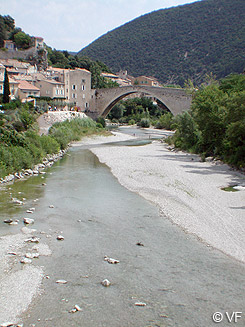 Selection of bed and breakfast in Nyons and the Baronnies on the portal of guest rooms in Provence
tourist office website : www.paysdenyons.com
Sights and activities:
Roman Bridge
Tower Randonne
Monastery of Saint-Césaire
Church of St.Vincent
Quartier des Forts
Place des Arcades
Fête votive 3rd Sunday of August
Provencal market from May to June on a Sunday morning
Weekly market on Thursday morning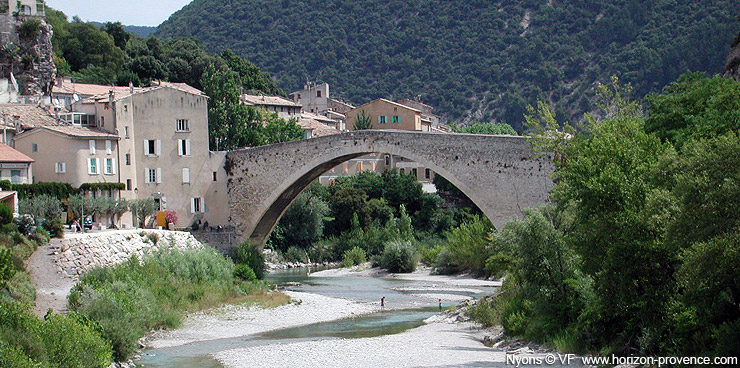 Coming to Nyons :
GPS location N 44°21'42'' - E 5°08'24''
The town of Nyons is in the department of Drome, in the region of the Baronnies
Location : altitude 235 metres, 7000 inhabitants, 10 miles from Vaison-la-Romaine,15 miles from Grignan, 18 miles from Buis-les-Baronnies, 25 miles from Orange, 42 miles from Avignon