Collias is a village on the left bank of the Gardon, equidistant from the Pont du Gard and Uzes. For people of the regin around, Collias is synonymous with leisure related to river bath and swimming kayaking or canoeing.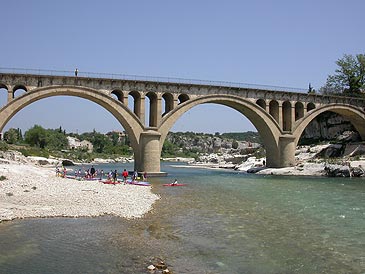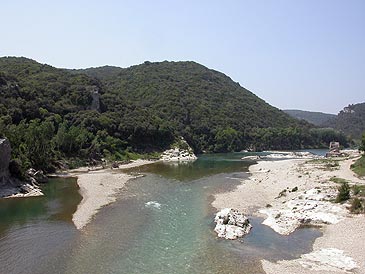 A spectacular bridge (on the road to Nimes), built in 1922, overlooks the river. The Gardon gorges upstream of Collias are wild, the river forms a narrow canyon and cashed. The scenery is spectacular, it is possible to make a canoe ride or walk to follow the gorge along a trail to find a quiet spot for swimming and sunbathing.
Collias is also a climbing center, the steep cliffs of the gorge is a popular meeting climbers. A via ferrata was established.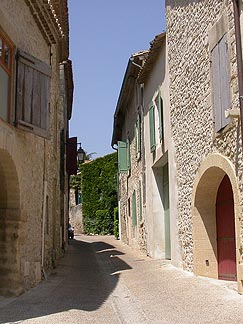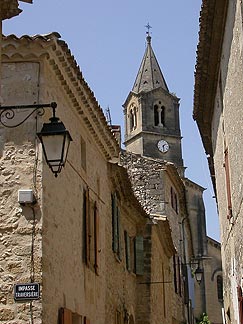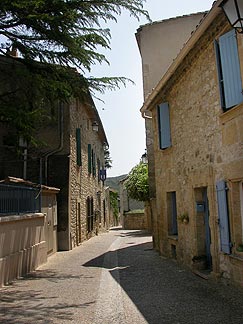 Downstream Gardon widens and flows to the Pont du Gard few kilometers away, it is an easy and enjoyable canoe trip.
Man has left many traces of his presence since prehistoric times. The foundation of the current village dates back to the 9th century, when a rural community settle around a feudal tower and ramparts, now extinct. The old village of Collias, despite the touristic and demographic pressure, preserved the appearance of the old provencal village with old limestone house. The St. Vincent church overlooking the village was built in the 19th century.
Also outside the village: discover the classified site of the Hermitage and the Notre Dame de Laval is the the opportunity of a nice walk in provencal country.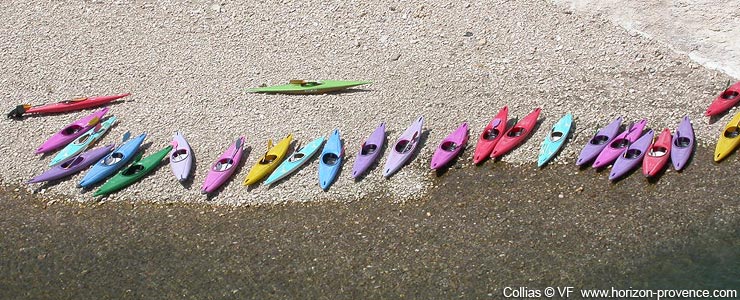 Accommodation in Collias and nearby
Selection of bed and breakfast near Collias and Pont du Gard on the portal of Provence's B&B
web site of Collias mairie : www.mairie-collias.fr
site de l'office de tourisme :www.ot-pontdugard.com

Coming to Collias
GPS coordinates N 44°57'17'' - E 4°28'40''
Collias position : altitude 100 metres, 1000 inhabitants, 3 km from Vers-Pont-du-Gard, 8 km from Pont-du-Gard, 10 km from Castillon-du-Gard, 11km from Uzes , 17 km from Saint-Quentin-la -Poterie, 23 km from Nîmes, 32 km from Avignon