Roussillon is a village in the Luberon Regional Park, more exactly between the massif of the Luberon and the Vaucluse Plateau, it is built a few kilometers away from the road between Apt and Avignon.
The landscape around Roussillon is a surprising beauty. The village sits on a wooded hill covered with deep green pine trees. Under the blue sky, the earth explodes in a firework of colors.
The Oches of Roussillon are known since antiquity: the name comes from Roussillon "roussoulus" which means "red path" in Latin. The earliest known inhabitants of the village of Roussillon has a Greek origin, towards - 450 BC. Roussillon is ranked among the most beautiful villages in France.
The ocher facades of houses, weathered by the sun and wind provide a unique village of Roussillon.

It remains some vestiges of the ramparts and the ruins of the old castle overlooking the village are now subsumed in more modern buildings.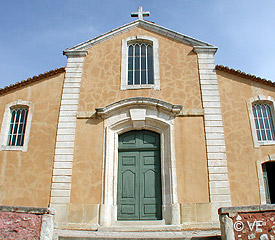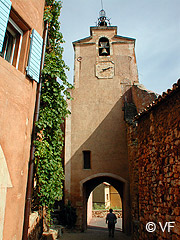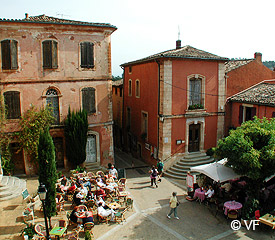 The town square is alive with beautiful boutiques and cozy restaurants. The Clock Tower marks the entrance to the old town, St Michael's church is built on top of the village on the edge of a cliff, its facade is from the 17th century. An orientation table helps to enjoy a beautiful view over the mountains of Vaucluse.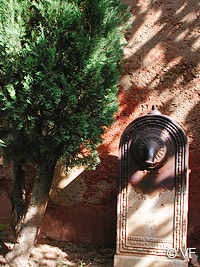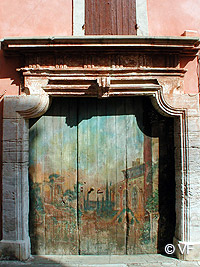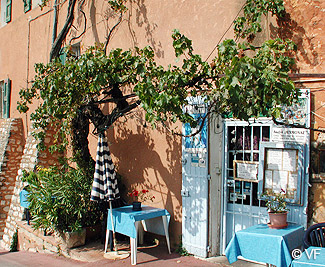 Map of Roussillon and Provence: GPS coordinates N 43°54'10'' - E 5°17'32''

The Conservatory of ochres and pigments appliedis installed in the old factory Mathieu for everything about the operation of the tan, its use, its geological provenance. Des ateliers et des animations sont organisées pour les enfants. Workshops and events are organized for children.
Accommodation in Roussillon and nearby
• selection of cottages for your stay Roussillon on the Provence's B&B portal
•

Find a hotel near de Roussillon with hotel.com
• Find a vacation rental
for a stay in Roussillon with Homelidays
• Website of the Tourist Office: www.roussillon-luberon.com
Location: 318 meters above sea level, 1,200 inhabitants, 8 km from Goult, 10 km from Apt, 11 km from Bonnieux, 11 km from Murs, 12 km from Gordes, 16 km from Ménerbes, 50 km from Avignon.