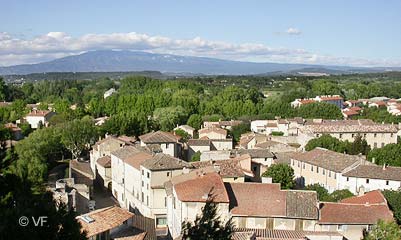 Former capital of the Comtat Venaissin in the Middle Ages, Pernes les Fontaines is seated on the Mont du Vaucluse foot, between the cities of Carpentras and Isle sur la Sorgue. It is crossed by the Nesque, an river with a irregular flow, coming from the Vaucluse plateau.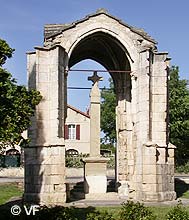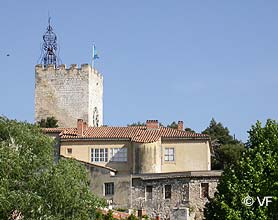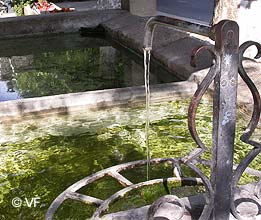 Beeing an active little provençal town, Pernes still looks like a large village. Pernes keeps still alive the Provence soul in its appearence and through its outstanding heritage. I invite you to discover some aspect of it in those pages.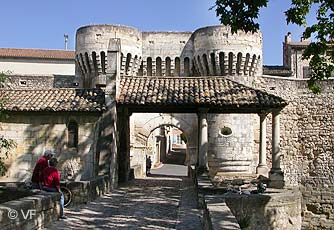 Three admirable medieval gates remains from the city walls, and allow the entrance in Pernes lesFontaines old town. Narrow and sinuous streets, ochre façades ornate doors and lintels express the particular atmosphere of the villages in Provence.
Numerous fountains with curious mascaron cheer up the stroll.
I would recommend to climb up the cobbled street and the stair reaching the "Tour de l'Horloge", the ancient donjon of the Toulouse Counts. The outlook is splendid : the green plain of he Comtat Venaissin spread to the north, from Pernes to Carpentras, limited at the horizon by the Dentelles de Montmirail and the Mont Ventoux.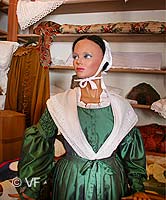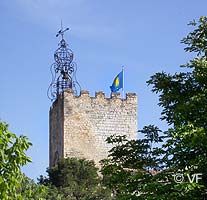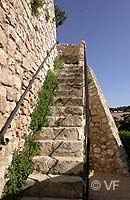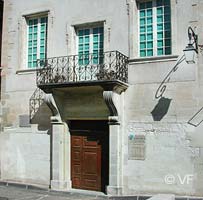 Pernes les Fontaines inhabitants carefully keep their historic and cultural heritage. The "Maison Flechier" houses a museum devoted to the regional popular tradition, and you'll find a draper shop, kept and restored as it looked about 100 years ago, where people expose the traditionnal clothes wored by their grand-parents.
Coming to Pernes-les-Fontaines : GPS coordinates : N 43°59'50'' - E 5°03'28''
Pernes-les-Fontaines and Provence map
Accommodation in Pernes and bearby
• Bed and breakfast in Pernes and nearby
la Nesquière
Beautiful bed and breakfast in the countryside between Pernes and Avignon. A very nice place to discover.
charming bed and breakfast - Dinner
5419, route d'Althen - 84210 Pernes les Fontaines
Tél : +33 (0)4 90 62 00 16
• See also a large choice of b&b in Pernes and its area among the Provence's b&b
Hôtel*** l'Hermitage in Provence
calm and comfort of a 19th century luxurious residence within a wide green parc with a large pool, in Pernes les Fontaines. Private car park, swimming-pool.
614, Grande route de Carpentras - 84210 Pernes les Fontaines - tel : +33 (0)4 90 66 51 41
• Tourist office site web : www.ville-pernes-les-fontaines.fr
Pernes location : 10 400 inhabitants, altitude 80 metres , 7 km from Velleron, 8 km from Carpentras , 10 km de Venasque, 12 km from Isle sur la Sorgue, 24 km from Gordes, 25 km from Avignon