The Ferrande tower is a medieval building within Pernes les Fontaines old historic town. On the last floor room, splendid 13th century fresco, exceptionnally preserved, recover the walls.
Like in a real comic book, the fresco tell the conquest of the Naples and Sicily kingdoms by Charles d'Anjou, Count of Provence. Backed by the Pope, Charles, french king Louis the 9th brother, settled with his conquests the Anjou dynasty dominion on occidental Mediterranean sea, which will last two centuries.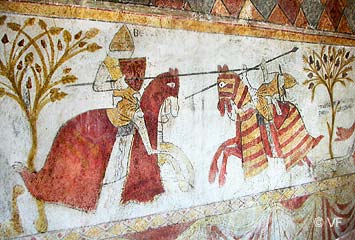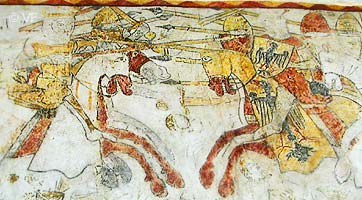 The colors in tones of ochre are still very bright, the battles scenes are surprisingly very precised. The Ferrande tower fresco recalls inevitably the famous Bayeux tapestry, telling in the same way the conquest of England by William, duc of Normandy, two century before.

The Ferrande tower was a kind of library, and a meeting place, owned by the Hospitaller Knights. It was probably build by Barral des Baux, a comrade in arms of Charles d'Anjou, who took part to his Italian conquest.

The Fresco have been probably realised for his son Bertand's marriage.

More known from scientist than general public, the medieval fresco of the Ferrande tower are now accessible to any one and the visit really worth the detour. Ask before your arrival to the tourist office which organise the visit, a guide will go with you.