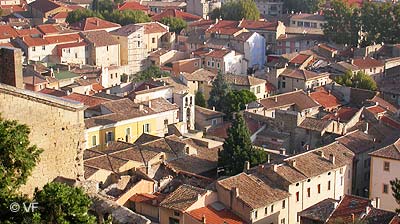 Gate of Provence for travellers coming from the north of France vy the Rhône valley, Orange is at the crossroads of civilizations and culture.
Since ancient time, History has let many traces here in Orange, with prestigious visible monuments but also the souvenir of tragic events.
Lying at the foot of the Saint Eutrope hill, Orange the provençal city welcomes the tourists coming here to admire the world famous Roman Theater and Triomphal Arch, both listed as World Heritage by the UNESCO.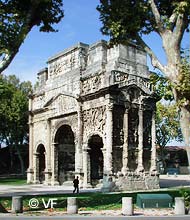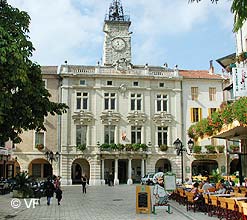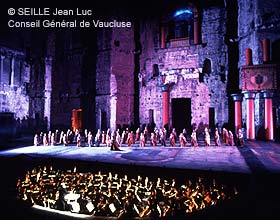 Around the ancient Theater the busy life of the city centre is animated every Thursday morning by the great provencal market.
The city is also dedicated to Art, the roman Theater in Orange thrills every summer when it welcomes the Chorégies, a presigious Festival for Opera and lyrical Art, displaying international quality shows.
Coming to Orange
GPS coordinates N 44°08'09'' - E 4°48'31''
Accommodation in Orange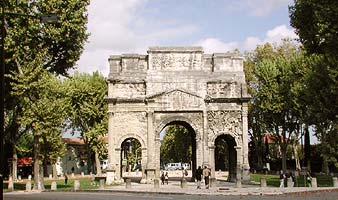 la Bastide des Princes
charming bed and breakfast and gastronomic dinner
Annie et Pierre Paumel - chemin de Bigonnet - 84860 Caderousse - tel : +33(0)4 90 51 04 59

les Tilleuls
Bed and breakfast and dinner in Orange - Maryse et Alexandre - 110 rue des tilleuls - 110 rue des tilleuls - 84100 Orange - tel : +33(0)4 90 34 60 05
• Selection of B&B in Orange amongst the B&B of Provence
• Tourist Office web site : www.otorange.fr
Orange location : altitude 30 meters, 29000 inhabitants, 10 km from Chateauneuf du Pape, 20 km from Vacqueyras, 21 km from Gigondas, 29 km de Vaison-la-Romaine, 31 km from Avignon