Motorists arriving in Provence by the Rhone Valley can not fail to notice the ramparts and keep of the fortress Mornas Sentinel unwavering situated high on the cliffs, all flags to the wind.
Mornas village nestles at the foot of the 137-meter-high cliff. The hill was a shelter against frequent floods of the Rhone, which sometimes extended his bed to the foot of the cliff, the fort was a haven in turbulent times: the Rhone Valley is a thoroughfare crowded by merchants, travelers, and armies.

Mornas and its heights are occupied from Neolithic times. It is an important strategic point for controlling the traffic of the Rhone Valley. The Romans implanted a castrum. During the Middle Ages Mornas belongs successively to the Holy Roman Empire, to the archbishops of Arles, the Count of Toulouse, then the Holy See after the Albigensian crusades, it is then integrated into the Venaissin County.

The pink roofs of village of Mornas village with perpendicular streets press the foot of the cliff. The walls of Mornas disappeared in the 19th century, but the doors remained. The magnificent plane trees in the "Course of the planes" provide welcome shade and coolness in summer.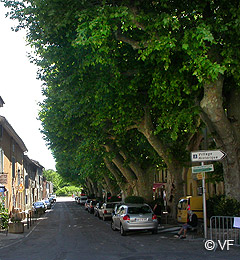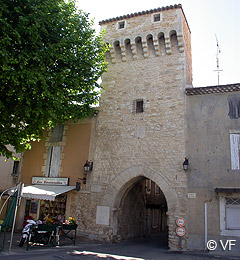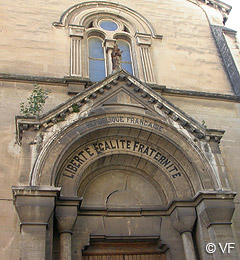 The Church of St George in the village dates from the 19th century, its facade is inscribed the Republican motto "Liberté - Egalité - Fraternité" since 1905, when the separation of church and State. It is one of eight "Republican churches" of Vaucluse.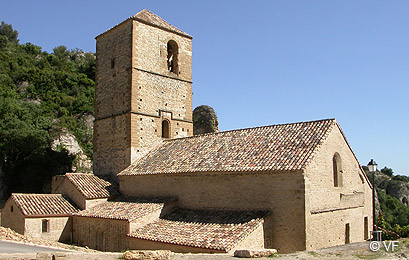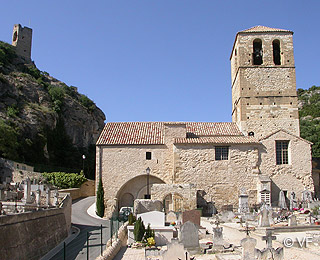 Walking up to the fortress by the narrow and steep small valley of Santa Baudile The last building is the church of the village of Val Romigier striking by its beauty. Originally Romanesque, it was very damaged during the wars of religion, and then happily restored. It is a monument with three naves with transept and central octagonal dome that fits harmoniously into the landscape.
Coming to Mornas
GPS coordinates N 44°12'12'' - E 4°43'37''
Accommodation :
Selected bed and breakfast in the Rhone Valley
Website of the Municipality : www.mornas.fr
Sights and activities :
- Mornas Fortress
- Church of the Val Romigier (12th century)
- Sainte Baudile chapel
- medieval gates Saint Firminin, Saint Nicolas and Saint Pierre
- Saint Georges church (19th century)
- Medieval Fete 1st week-end of july
- Weekly market and flea market on Saturday morning
Location : altitude 80 metres above sea level, 8 000 inhabitants, 10 km from Bollène, 12 km from Orange, 44 km from Avignon