Le Thor is a pleasant little provençal town in the heart of the Sorgues rivers country. The Douzabas gate, with its clock and its campanile shows the centre of the city.
Le Thor owns a noteworthy architectural heritage : some ruins of the old city walls but above all a superb provençale Romanesque church.
The village was founded i the early Middle-Age, it developed around a castle and by drainage of the surrounding swampy soils.
The river arms go across the city and give a welcome freshness during summertime. The Sorgues rivers criss-cross the village and the country around, irrigating fields and orchads.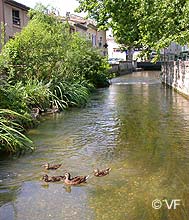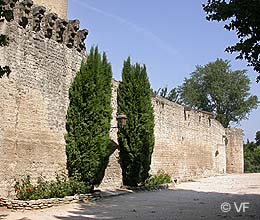 Le Thor's Romanesque church Notre Dame du Lac was built in the 12th century. It still keeps its original shape since. Only the bell-tower was restored in the 19th century.
The massive nave is typical of the Romanesque churches in Provence. This church is an example exceptionnally well-preserved of the Romanesque art in Provence.
Its nave is also very high for a Romanesque building, it is covered with a ribbed vault, characteristic of the gothic architecture. This is one of the first gothic vault in Provence.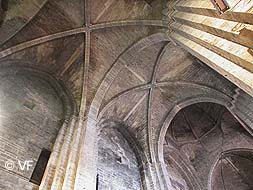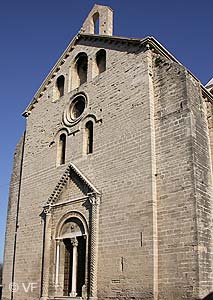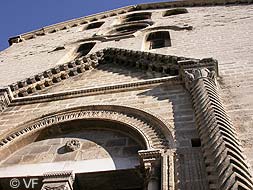 The difference with other Romanesque churches in Provence remains in the rich sculptural decoration outdoor, on the western façade door and on the porch of the southern façade.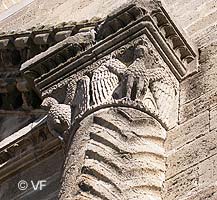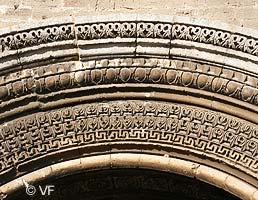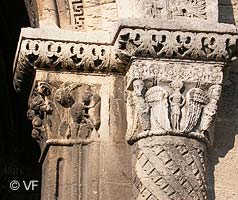 Just 2 km from Le Thor, a nice walk to the top of the Thouzon hill will bring you to the suggestive ruins of a fortified monastery from the Middle-age. Underground, the spectacular Thouzon cave is a real geologic jewel.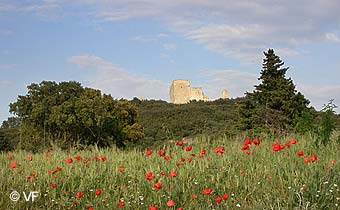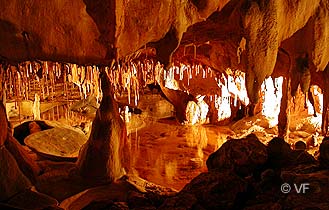 Coming to le Thor : GPS coordinates N 43°55'47'' - E 4°59'40''
Accommodation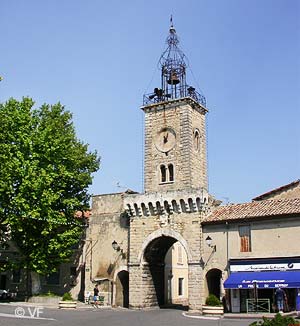 • see also a selection of charming B&B near Le Thor and Isle sur la Sorgue on the le portal chambres-dhotes-provence.net
• City web site : www.ville-lethor.fr
• Location of Le Thor: altitude 40 metres, 8200 in habitants, 18 km from Avignon, 5 km from L'Isle sur la Sorgue , 6km from Velleron,13 km from Pernes-les-Fontaines. la Grotte de Thouzon au Thor en Provence en Vaucluse Pays d'Avignon - Pays des Sorgues email : grottesdethouzon@wanadoo.fr site internet : www.grottes-thouzon.com tel. : 04 90 33 93 65 position GPS : N 43°56'41'' - E 4°59'23'' à 2 km du Thor Venir au Thor : position GPS N 43°55'47'' - E 4°59'40''
© VF - Horizon Provence 2017 - contact - tous droits de reproduction réservés - all rights reserved
informations données à titre indicatifs - Information is given only as an indication