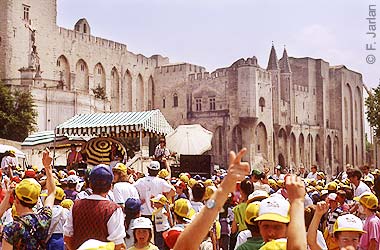 It is not easy to define the Festival Off in Avignon : feast, fair, supermarke of theatre, the Festival Off is all of that and still much more. During the three weeks of the 'official' Avignon Festival, theatre and stages appears spontaneously in the centre of the city. A huge number of shows are proposed to the simple spectator.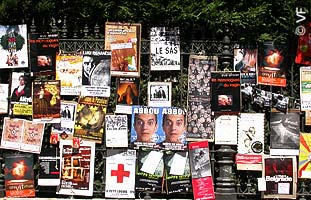 The luxuriant exuberance of shows numbers drives to a darwinian struggle for recognition : posters occupy all available space, thousands of leaflets are handed out, troups parade in the streets to attract public, keeping constant animation in the centre of the city.
To play in Avignon, no selection is made, from the amateur theatre to the most confirmed artists, every one come in Avignon to find the public recognition but also contracts with professionnal programmer coming from all over France to find shows.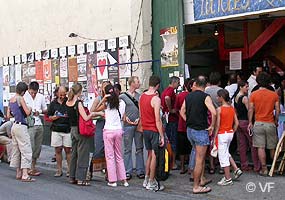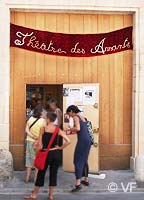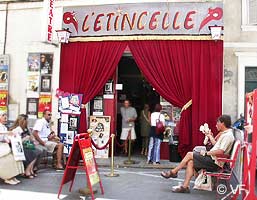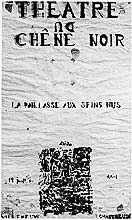 André Benedetto, today director of a permanent theatre in Avignon, the "Theatre des Carmes" was the pionneer of the Festival Off : not invited by Jean Vilar, he presents independantly his show during the Festival in 1966. In 1968, the banning of an independant piece by authorities starts the unrest. In 1971, this festival "bis" offers 38 shows in 12 stages, it is named Festival "Off" in opposition to the official Festival often called Festival "In". In 2007, the Festival Off offers more than 970 shows.
Affiche de "La Paillasse aux seins nus" - pièce de Gérard Gélas interdite en 1968 © Méran
The Avignon Festival today can not been conceived without the Festival Off. Far from being scared by the plethora and diversity of shows, public comes in numbers. Every one has his way to choose his way through jungle of shows : rumour, reading of critics, intuition, ...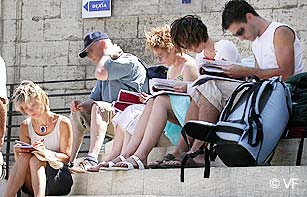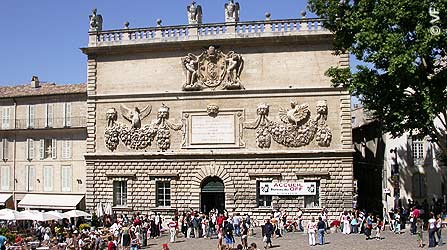 The Festival Off is a cultural experience renewed every year, always validated by the public. Its success is a proof of the Living art vitality.
Coming to Festival Off :
GPS location N 43.946565, E 4.816427
Avignon Festival OFF contact :
Official website of the Festival Off Avignon : www.avignonleoff.com
email : contact@avignonleoff.com
Tél : +33 (0)4 90 85 13 08