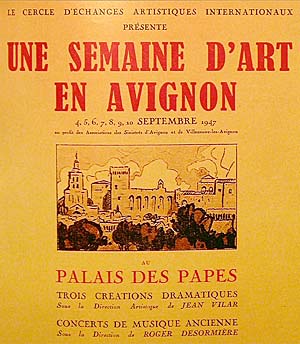 Une semaine d'art en Avignon - 1947 - Maison Jean Vilar
The poet René Char and Christian Zervos inaugurate in September 1947 a "Art week in Avignon". They organize a contemporary art exhibition in the pope's Palace and they invite the director Jean Vilar to invest the Cour d'Honneur of the palace. First hesitating, Jean Vilar presents three theater pieces of which "Richard II" of Shakespeare.. The majestic and austere set transcend dramati theatre. The public, conquered wants more, he is faithful to Avignon meeting since 1947.
The Festival is a growing success during the 50's. The performances of "Le Cid" (Corneille), Richard II (Shakespeare), " The Prince of Homburg" (Heinrich von Kleist) in the Cour d'Honneur makes the Avignon Festival's legend enter in the history of french theatre.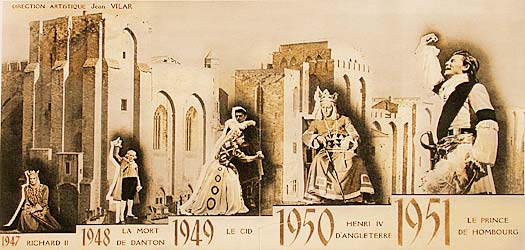 Jean Vilar has a militant approach : he bets on desire of a young and popular public for quality theatre confined until now in traditionnal stages. He makes a demanding and popular theatre.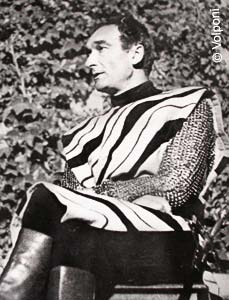 Jean Vilar © photo Volponi
Jean Vilar dedicates himself completely to the running of the Avignon's Festival from 1964. He invites directors of theatre, he opens the Festival to Dance and Cinema, played in new stages in the city. Jean Vilar wants to make during the Avignon Festival a place for cultural exchanges and thought, griped on society changes.
Nevertheless in 1968, just after the student revolts of May, Jean Vilar faces an impervious and radical youth.
Jean Vilar passes away in 1971 just before the opening of the 25th Avignon Festival. Paul Puaux, his assistant takes the run. He follows the direction started by Jean Vilar, he hosts in the Festival the diversity of performing arts : cinema, readings, musicals, children theatre, meetings. Paul Puaux resigns in 1979 to manage the "Maison Jean Vilar" which keeps the Festival memory. The Festival needs a second wind.